2021 Chevrolet Camaro Oil Change

Chevrolet Buick GMC Of Sanger is located at:
1028 Academy Ave • Sanger, CA 93657
Are oil changes really necessary? Most new car owners wonder this and may be uncertain of how often to get a service and how essential oil changes really are. Mechanics and experienced vehicle drivers, however, will tell you that changing your oil is one of the most important things you can do for the long-term health of your vehicle.
Oil plays a vital role in the performance of your car, and failure to bring it to the auto shop at the scheduled time will affect both the functionality and longevity of your car. Not only that, but it may cost you a fortune in future damages.
So, how often should these oil changes take place? It varies depending on the make and model of your vehicle, but for most cars, it is usually recommended to see a mechanic every three months or 3,000 miles.
In 2020, Chevrolet released the sixth model in the Camaro series – the 2021 Chevy Camaro. A few minor changes and updates were made, but this model still boasts the high-performance, high-power engine of its predecessors.
If you are a lucky owner of the 2021 Chevrolet Camaro, you'll want to look after it as best you can. Worry not, because, in this article, we'll walk you through the ins and outs of caring for your 2021 Chevy Camaro with regular, quality oil changes.
The Importance of a 2021 Chevrolet Camaro Oil Change
Do you know that changing your oil regularly will result in better gas mileage? To maintain low fuel consumption, your engine needs to be in top condition. If you don't change your oil frequently enough, your miles per gallon will be reduced, as you will need to put gas in your car more frequently.
Oil is considered the blood of your vehicle. All of the moving parts – the valves, the engine, and other pieces that enable your car to move – are lubricated by the car's oil. They rely upon a regular oil change in order to function at their optimal capacity.
A vehicle is also more susceptible to overheating without proper oil changes. Your car comes with a coolant system that regulates the temperature of most of the car parts; on areas where the coolant is unable to reach, however, the engine oil makes up for it.
As you can see, there are plentiful reasons as to why you should keep up to your car's oil change appointments regularly. If you want your vehicle to last for a long, long time, you'll want to perform oil changes on schedule – but how can you tell when your oil change needs to take place?
How To Tell if Your Oil is Low:
Engine Light Is On
An important piece of information to keep under your belt is the engine light function. When the warning light on your dashboard is illuminating, you are in need of an oil change – ASAP. Ignoring this signal risks serious damage to your engine, potentially costing you a packet down the line.
Rather than waiting until the warning light is on, the 2021 Chevy Camaro comes fitted with an oil life monitoring system, which will inform you when to change the oil based on the way your car is running.
Burning Smell
Another sign to take note of is odd smells. If you smell burning oil from inside of your car, pull over immediately and turn off the engine. You can use this time to check the engine oil by doing the dipstick test. Use the dipstick to check the oil level. If it shows below the minimum mark, add more oil. Don't ever try to continue to drive, as it will cause more harm to your engine.
Clunking Sounds
Be sure to keep an ear out for any sort of clunking sounds when driving. If there is not enough oil, the engine parts won't be sufficiently lubricated; this is where a clunking sound can originate. Aside from this being a signal for low oil level, it may also indicate a failing engine. If you hear loud knocking or grinding sounds, proceed to your local mechanic and treat the situation promptly and properly.
2021 Chevy Camaro: Best Time for an Oil Change
If you are a proud owner of the 2021 Chevy Camaro, how can you ensure that your car receives the very best engine care? Looking out for the signs discussed in the previous section is a great place to start. However, you don't have to wait for your Chevy to reach breaking point – simply change your oil on a schedule, and your car will never need a warning signal!
It Depends On The Oil
Oils are not all made the same. A good rule of thumb is to change oil every 3,000 miles to 5,000 miles if you are using conventional oil. As the car and motor oil industries modernize, however, lubricants can reach intervals of 5,000 to 7,000 miles before an oil change. If you use a high-quality oil, such as ACDelco GM OE dexos1 full synthetic oil, you can stretch to every 15,000 miles.
However, if you are using your Chevrolet for heavy loads or for driving in particularly rough areas, it is recommended to get in contact with a good mechanic, because you might need to get an oil and filter change within shorter intervals.
How Much Does A Chevy Camaro Oil Change Cost?
On average, an oil and oil filter change for your 2021 Chevy Camaro will cost around $60 to $100. However, you can get a good deal by booking your car with our certified service experts for a multi-point vehicle inspection, a full synthetic oil change package, and tire rotation.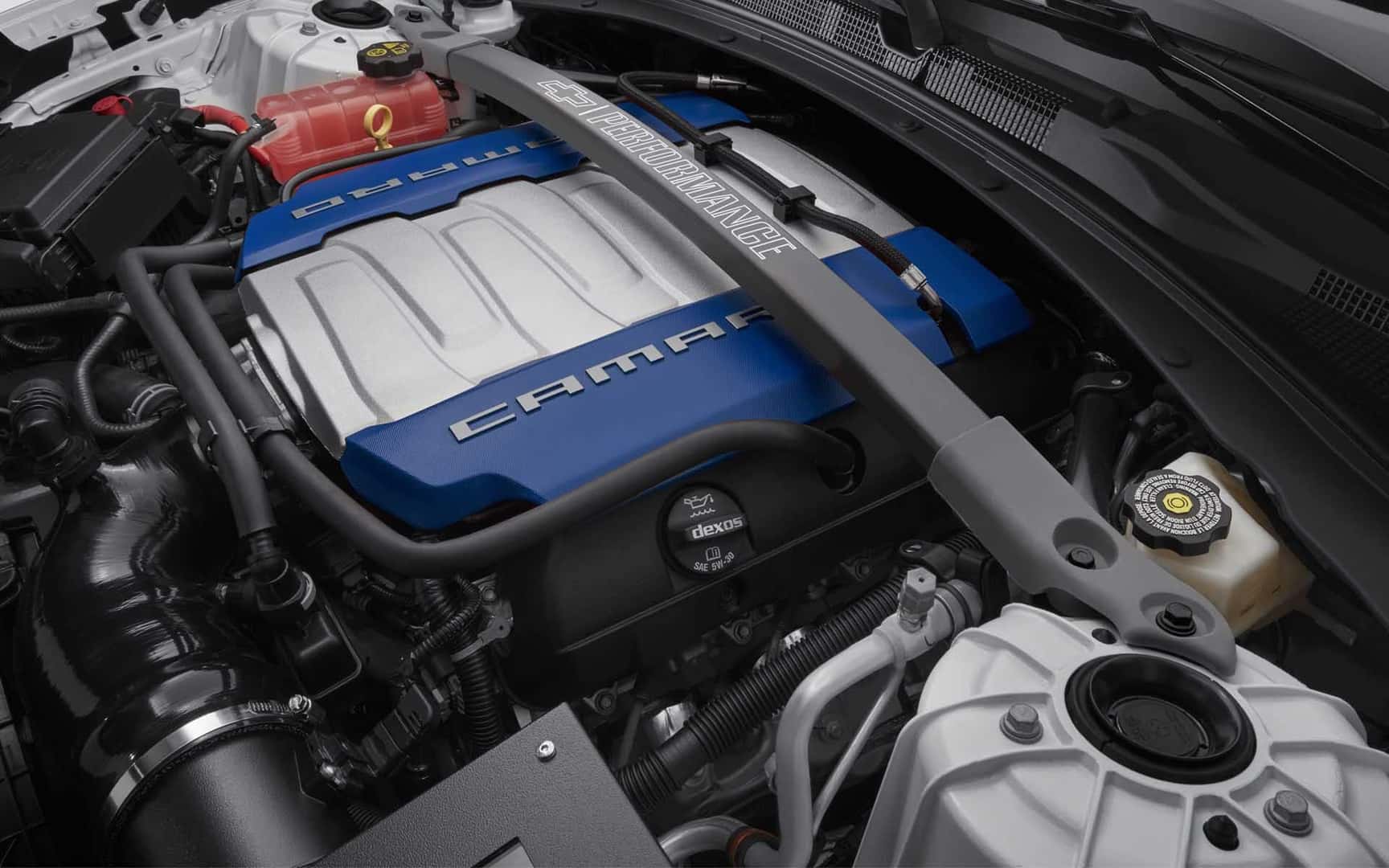 Can Oil Changes Be Done At Home?
The answer is yes – you can certainly change engine oil by yourself at home.
To change your oil, simply pop open the hood, remove the oil filler cap, and drain it. Once drained completely, clean the oil drain plug and install it. Look for the filter and remove it, together with the filter's gasket. Install the new filter and tighten it. Pour the oil using a funnel, and constantly check the oil level. Start and let the vehicle run for a few minutes to make sure everything runs correctly.
Changing oil is not too complicated, and can be done by a non-professional using the right tools and oils. However, it takes a longer time to do this at home. If you are not confident, you can always go to a reputable auto shop in your area – it might surprise you how quickly they can get the job done!
Why Should Sanger Chevrolet Buick GMC Service Your Car?
Convenient
At Sanger Buick GMC, we have all the tools and expertise needed to change your oil quickly and conveniently. This activity is made easier at Sanger Buick GMC because you can call or sign up online if you want to schedule an oil change. Or, if you are around the area, drop into the shop for an oil change that takes less than an hour!
Affordable
At Sanger Buick GMC, specials and coupons are always being offered for our customers – including discounts for the regulars. Changing your oil and oil filter can be a little heavy on the pocket, but at Sanger Chevrolet, you can find ways to save!
Trained Staff
The mechanics at Sanger Chevy undertake regular training to make sure they are up to date with the latest information about newly released cars. That is why Sanger Buick GMC is the best option for your prized 2021 Chevy Camaro.
Fully Equipped Maintenance Shops
Whether you are visiting for an oil change or for other vehicle-related concerns, Sanger Chevrolet has got the resources to fix it all. We have all essential parts available in one convenient location – never mind waiting around for bits and pieces to arrive from other shops.
Find Your Local Chevy Buick GMC auto repair near you
Changing your oil is essential in caring for your beloved 2021 Chevy Camaro. Thankfully, Sanger Chevrolet Buick GMC is serving in Sanger, Clovis, Fresno, and nearby areas to make your next oil change easy and convenient.
To contact our auto shop, visit us in person or book an appointment with us now!