2021 Chevrolet Corvette Oil Change

Chevrolet Buick GMC Of Sanger is located at:
1028 Academy Ave • Sanger, CA 93657
Everything to Know About 2021 Chevrolet Corvette Oil Changes
Your 2021 Chevrolet Corvette is a finely tuned vehicle. The lifeblood of your Corvette's engine is the oil. If you fail to invest in regular oil changes from the professionals at Sanger Chevrolet, you may discover your vehicle cannot function as effectively or efficiently as it once did. The oil is also responsible for keeping your engine cool and preventing contaminants from building up inside your engine.
During your vehicle's normal, day-to-day operation, the oil's ability to perform these essential tasks is minimized because of contamination due to combustion gases and moisture. If you take multiple short trips and your engine doesn't reach the full operating temperature regularly, the oil will become contaminated faster, which will require more frequent oil changes.
Your oil filter needs to be changed regularly, too, because as time passes, it loses its ability to clean the oil as the engine runs. If you fail to replace the oil filter, it may degrade and, in some situations, can disintegrate. This can cause clogs in the oil passages and cause permanent damage or engine failure. At this point, extensive Corvette repairs may be needed.
When it comes to a Chevy Corvette oil change, it is something you shouldn't put off, and our team at Fresno Chevrolet is ready to help provide the services and solutions you need. Learn more about the importance of regular oil changes for your Corvette and why our team is the best for the job here.
Can You Drive Without Regular Oil Changes?
You can drive your vehicle without regular oil changes; however, doing so puts your engine and vehicle at risk. A general recommendation is to have the oil changed every 3,000 miles; however, this varies based on your vehicle, the total mileage on the engine, and the driving conditions.
As time passes, the engine oil will break down due to use and become contaminated because of the combustion process and blow-by gasses. You must have the filter and oil changed when convenient to ensure the internal engine components are protected.
How Do You Tell When You Need a Chevy Corvette Oil Change?
Your oil needs to be changed regularly to help prevent internal breakdown and engine damage. Chevrolet outlines the proper intervals to change your 2021 Corvette's oil in the owner's manual, and it is best to follow these guidelines. You can also speak to our technicians at Sanger Chevrolet for more vehicle-specific recommendations.
While you may have heard the golden rule of oil changes – "3 months or 3,000 miles" – in the past, this isn't always true for new vehicles, like the 2021 Chevrolet Corvette. While you may need this frequent of oil changes, it isn't always the case since engines are designed to operate more efficiently.
Some vehicles are also designed with maintenance computers that will tell you when the oil life is low or depleted or if the service maintenance has passed. The notification may go on or off based on your driving conditions or environment, such as being in stop-and-go traffic regularly or if you tow or haul heavy loads.
Choosing the Right Oil for Your 2021 Chevrolet Corvette
Choosing the right grade of motor oil is an important step when it comes to engine maintenance. You have several options, including everything from full synthetic to conventional and more. At Sanger Chevrolet, you can work with experienced technicians to choose the right type of oil for your vehicle.
Some of the options include:
Conventional Motor Oil
Conventional oil offers a high level of protection for engine wear and corrosion protection. It also offers special additives, which will help your engine continue running smoothly.
Full Synthetic Motor Oil
Full synthetic oil is designed to provide resistance to oxidation, provide superior low-temperature flow, and prevent sludge and other types of deposits from forming.
Some options also offer anti-wear technology and high-temperature stability. This ensures your engine performs well in any conditions.
Why Hiring the Professional Technicians from Sanger Chevrolet for Oil Changes Is a Smart Move?
Your vehicle needs the proper amount of oil, changed regularly to operate properly. One of the best ways to achieve this is with the help of the professionals at Sanger Chevrolet.
Some of the reasons to invest in these expert services include:
Done right the first time: When talking about your engine's longevity, there's nothing more important than investing in regular oil changes. Making a mistake along the way may cause serious damage and problems in the future.
Several options: You can choose the type of oil that is best suited for your vehicle or work with our technicians to find the right type.
Avoid getting your hands dirty: While professionals can handle an oil change for your Corvette in just 15 to 30 minutes (in most cases), it doesn't mean that the process is simple. Are you really ready to get your hands dirty? Do you want to have to crawl in the dirt, under your vehicle, if you don't have to? Most people agree that hiring a professional is the best course of action.
Faster than handling the job yourself: No one wants to spend hours trying to do something that should not take that long. When you hire a professional, you don't have to wait long for the job to be done. You can drop your vehicle off with the professionals and then wait just a few minutes and be ready to go.
These are just a few of the reasons you should hire the team at Sanger Chevrolet to handle your 2021 Chevrolet Corvette oil change. With professional services, you also get the benefit of having other fluids and systems found and fixed. This is going to help ensure that any issues are found and repaired before more serious problems occur.
FAQs
If you own a 2021 Chevrolet Corvette, there's a good chance you have other questions about the oil change service. Some of the most common are answered below.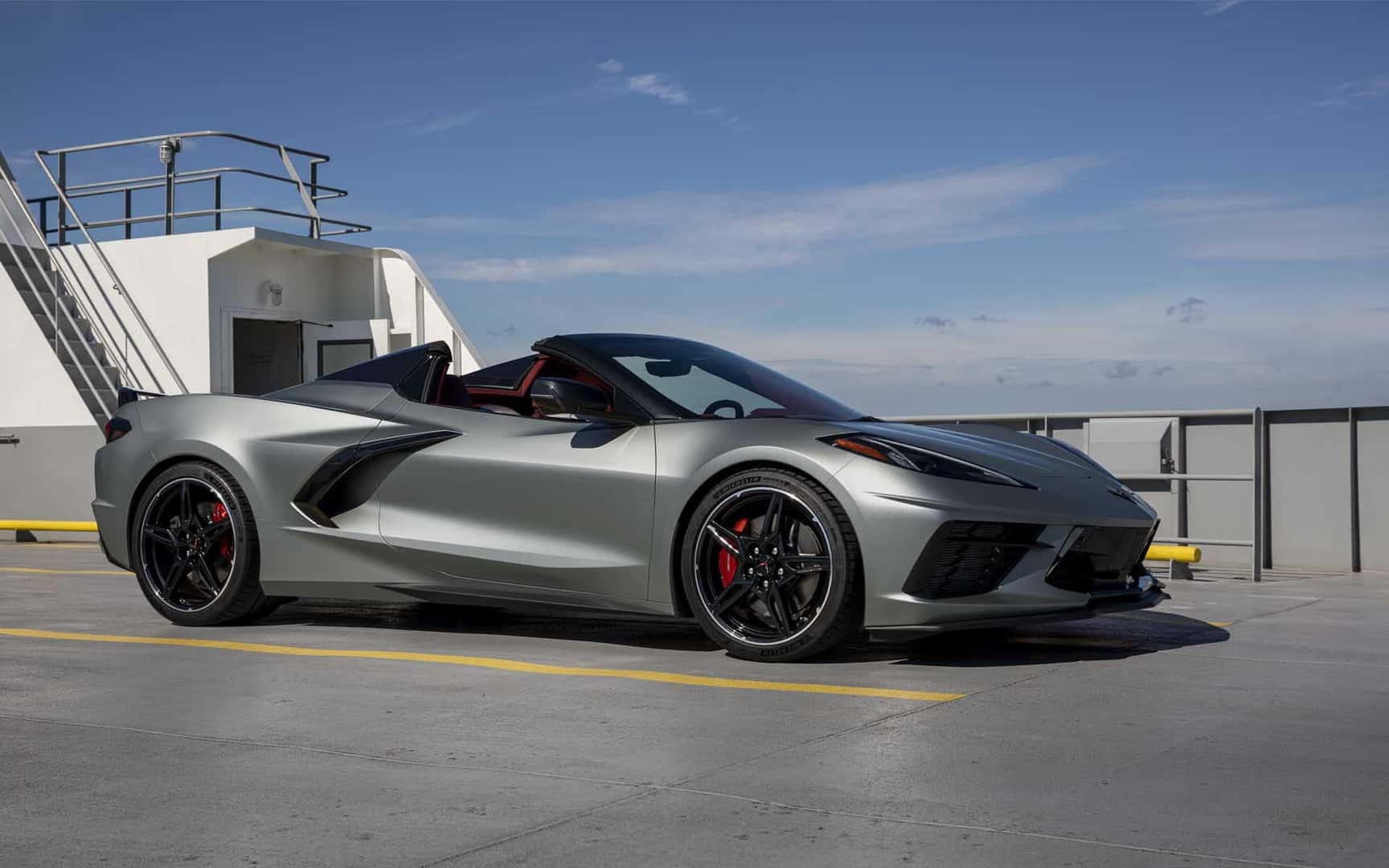 What to Do When the "Change Engine Oil Soon" Message Appears?
As mentioned above, your 2021 Chevrolet Corvette is built with a sophisticated computer that lets you know when certain services are needed – including an oil change. When this message appears, it is best to seek professional oil change services from Sanger Chevrolet as soon as you can. In most cases, it is recommended that you do this within the next 600 miles.
If you are driving in "perfect" conditions, the Engine Oil Life System in your Corvette may not indicate you need this service more than once per year. Keep in mind that it is imperative that you have this done once per year and the Engine Oil Life System reset. This is a service that is factored into the oil cost at the time of service.
How Do You Choose the Right Type of Oil for Your Chevrolet Corvette?
To find the right type of oil for your Corvette, it's a good idea to look in the Owner's Manual. You can also talk to our team of technicians at Sanger Chevrolet. They can help you choose the best type of oil for your vehicle.
Is It Necessary to Have Your 2021 Corvette's Oil Changed Ever Three Months or 3,000 Miles?
Most of the newer Chevrolet models have been equipped with the Engine Oil Life System, which means that the 3,000-mile oil change is no longer a general requirement. Based on the age of your vehicle, the road conditions, and driving habits, vehicles with the most advanced engines can go further than 3,000 miles between each oil change. Make sure to check the oil level in your engine regularly to ensure that sufficient oil is present.
How Do You Check Oil Levels in Your Corvette?
It's smart to check the oil level in your vehicle regularly. To ensure you get an accurate reading, your oil must be warm and at normal operating temperatures. It's also necessary to have your vehicle on level ground. You can also have the professionals handle this for you, which will ensure you know if your oil needs to be changed or not.
Keep Your 2021 Chevrolet Corvette Running Properly with Professional Oil Changes
If you want to ensure that your 2021 Chevrolet Corvette continues to run properly, it's a good idea to invest in professional oil changes. Our team at Sanger Chevrolet serves residents in Clovis, Fresno, and more. We are here to provide you the services and solutions you need to keep your Corvette in superior operating condition and performing well.
Our team of expert technicians can also go over any questions you have to ensure you stay updated and knowledgeable about necessary maintenance and care for your 2021 Corvette. Contact us today to schedule an appointment or discuss your maintenance needs. We are here to help, regardless of what your specific needs are.