2021 Chevrolet Suburban Oil Change

Chevrolet Buick GMC Of Sanger is located at:
1028 Academy Ave • Sanger, CA 93657
Oil Change Info for the 2021 Chevrolet Suburban
By now, you understand Chevrolet vehicles provide superior value for the money. However, this is just the start. If you want to maintain the value of your 2021 Chevrolet Suburban, you must invest in regular service and maintenance, which includes oil changes.
How Often to Invest in a 2021 Chevy Suburban Oil Change?
Are you unsure where to go to get your Suburban's oil changed? Or are you unsure how often to seek this service? If so, a great place to start is by speaking to Sanger Chevrolet Buick GMC professionals. These professionals serve the local area, along with residents in Clovis and Fresno, and are dedicated to helping ensure your Suburban stays operational and efficient.
At Sanger Chevrolet, providing oil and lube services is one of the specialties that the technicians are ready to help with at any time. Also, when you come here for your Chevrolet Suburban oil change, you can feel confident your vehicle is in good hands, and a team of experienced professionals provides the service.
Remember, the oil is the "blood" of your engine. Investing in regular oil changes is one of the best things you can do for your 2021 Suburban.
Following the Manufacturer's Recommendations
You should change your 2021 Suburban's oil based on the intervals suggested in the owner's manual, which the manufacturer provides. If you aren't sure where this information is, our team at Fresno Chevrolet can help.
While you may want to base your oil change intervals on mileage, this isn't always the best move. Regardless of the vehicle's mileage, you need to pay attention to the oil and watch for signs that Suburban repairs are needed. This may be indicated by the appearance of the check engine light, knocking sounds coming from the engine, excess exhaust, or the smell of oil inside your vehicle.
Also, your vehicle may require an oil change more often than what is recommended if you travel down dusty roads frequently, go off-roading, drive at low speeds for long distances, or haul heavy loads. In most situations, investing in more frequent oil changes won't hurt your vehicle. In fact, each time you invest in an oil change for your vehicle, it gives technicians the chance to find other issues. Every time you have your Suburban's oil changed, it is an opportunity to treat other problems, such as a failing battery or bad brakes.
What Type of Oil Does Your 2021 Chevrolet Suburban Require?
Your 2021 Chevrolet Suburban is a quality vehicle, and because of this, when you have the oil changed, you must choose the right type of oil. Some of the most common types include:
Conventional oil
Synthetic oil
Synthetic blend oil
High mileage oil
In your manual, you will find the recommendations from Chevrolet about the type of oil you should use for your 2021 Suburban.
Determining the best motor oil for your Suburban requires you to consider a few factors. Some are external, such as your engine's age, your driving habits, and the climate in Fresno and surrounding areas. Other internal factors include the manufacturer's specifications (mentioned above) and the type of engine in your Suburban.
Full Synthetic Motor Oil
Full synthetic oil is required for any vehicle that demands optimal performance and higher levels of lubrication. With full synthetic oil, you achieve higher viscosity levels, resistance to thermal breakdown, and oxidation resistance. It can also help fight against oil sludge. This oil type also improves fuel efficiency while increasing the vehicle's total horsepower by minimizing engine drag.
Since synthetic motor oil often costs two to four times more than traditional oil, it's a good idea to talk to our technicians if your 2021 Chevrolet Suburban really needs this type of oil. When synthetic oil is recommended, some situations include extremely cold or hot climates or if you use your vehicle for hauling or towing.
Synthetic Blend Motor Oil
Synthetic blend motor oil gives you the best of both worlds. It offers many of the same characteristics as full synthetic oil, but it is more affordable. This oil mixes conventional and synthetic base oils, and additives, providing additional resistance to oxidation. It also has superior low-temperature properties.
With a synthetic blend, you can easily move from conventional to synthetic oil, which is why many drivers use this type today.
Conventional Motor Oil
This is the most common type of motor oil used today. It is a good option for vehicles with low to average mileage. This is an affordable option for your 2021 Suburban; however, it doesn't provide some of the higher levels of protection and lubrication for your engine that the above two options do.
High Mileage Motor Oil
While this may not be a concern that you have to worry about with your 2021 Chevrolet Suburban, eventually, as you increase the miles on your engine, it will be important to consider it. With high mileage motor oil, you can reduce oil consumption, reduce the possibility of oil seepage and leaks, and help reduce smoke and other types of emissions in your engine.
The purpose of motor oil is to lubricate the moving parts in your engine, prevent harmful substance buildup in your engine, and regulate engine temperature. During an oil change, the service technician will change the oil, replace it with new, and recycle the used oil and filter. They will also inspect any other filters, fill up needed fluids, and perform an inspection on other important components and systems. When you invest in a regular oil change, you can feel confident your vehicle will be checked over and that it will continue to operate efficiently.
Why You Should Never Put Off Regular Oil Changes in Your Suburban
The importance of regular oil changes can't be over-emphasized. As time passes, the oil's viscosity in your vehicle will start to deteriorate, break down, and get dirty. This will cause the engine to operate sluggishly. Some of the top reasons to invest in regular oil changes for your 2021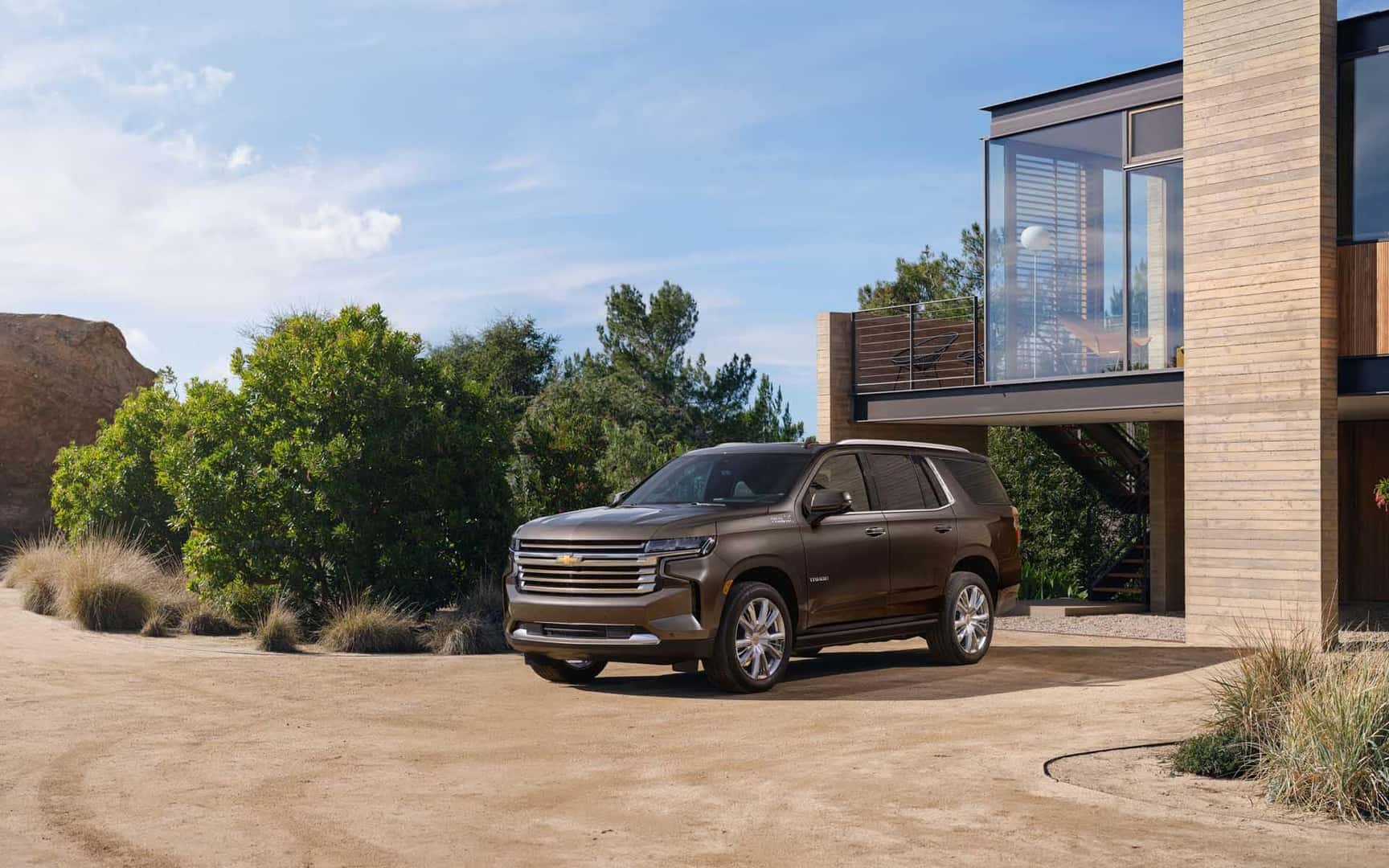 Chevrolet Suburban Include:
Cleaning the Engine
The oil is what keeps the engine and all connected components working smoothly. If the oil and oil filters aren't changed, debris and dirt can accumulate in your engine, causing it to slow down. If the problem persists, it can result in permanent damage.
Longer Lifespan
When you keep up with regular oil changes, you can extend the life of your engine. This is because proper lubrication helps prevent all types of internal wear and tear and damage.
Improved Fuel Mileage
There are a few factors that may impact your Suburban's gas mileage. Examples include the weather conditions, your driving habits, and vehicle maintenance. However, if your engine oil is dirty, it impacts overall operating efficiency, making the engine work harder. It also results in you spending more money at the gas pump more often.
FAQs
What may happen to your 2021 Chevrolet Suburban engine if you have low oil?
As mentioned above, the job of engine oil is to lubricate the moving parts of the engine. If the oil reservoir is empty or low, these components may grind against one another, lead to engine failure, or overheat. Therefore, it is a good idea to check the oil levels and have your oil changed often.
Is it possible to change the oil in your 2021 Chevrolet Suburban on your own?
Changing your Suburban's oil is not as easy or convenient as you may believe it is. Not only do you have to handle the entire process, but you must figure out how to dispose of the oil properly. When you hire our professional team, you can reduce the risk of something going wrong during the oil change service. It will also help ensure your vehicle runs smoothly down the road.
Why is the exhaust smoke coming out of your Chevrolet Suburban blue or grayish?
Your engine may be burning oil because of a leak. If this is the case, you can speak to our team of professionals to inspect the problem and find the issue. Some of the common reasons this happens are worn cylinder walls, damaged piston rings, and worn valve seals.
Don't Put Off an Oil Change for Your 2021 Chevrolet Suburban
When it comes to changing the oil for your 2021 Chevrolet Suburban, this is something you don't want to wait to do or put off. The longer you wait, the more serious issues that may arise with the motor.
If you are ready to have the oil changed in our Suburban or have questions about engine maintenance, reach out to our team of professional technicians at Sanger Chevrolet Buick GMC. Our team is here to provide you with the quality service you want and need to help keep your vehicle running effectively and efficiently.