2021 Chevrolet Tahoe Oil Change

Chevrolet GMC Of Sanger is located at:
1028 Academy Ave • Sanger, CA 93657
Sanger – 2021 Chevrolet Tahoe Oil Change 101: Keeping Your Car in Check
The all-new 2021 Chevrolet Tahoe has all the latest in high-end features, with plenty of upgrades from their previous models. But how do you preserve its top-of-the-class caliber and keep the engine performance up and running for years? The answer is in availing high-quality services including oil change. Read on to find out how you can make your 2021 Chevy Tahoe stay at its finest through proper change oil maintenance.
The 2021 Chevy Tahoe is an SUV that offers the most advanced available suspension in its class with Magnetic Ride Control and Four-Corner Air Ride Adaptive Suspension. An available Power Sliding Center Console can automatically slide back up to 10 inches, allowing every one of your passengers the room they need. The third row has been enhanced to offer a more comfortable chair height along with 40% more legroom than the previous models.
The 2021 Chevy Tahoe offers different model cuts to suit your lifestyle and needs. Whether it be the premium model High Country, the street-fashioned to RST, or the rough-road-ready Z71, each model provides an experience of luxury and comfort. Even the standard LS offers a 10-speed automatic transmission, Premium Smooth Ride suspension, a 460 lb.-ft. of torque at the low end, all-season tires, and the signature Chrome Roof Rack Luggage Carrier. With its Duramax 3.0L Turbo-Diesel, the 2021 Chevy Tahoe is the most fuel-efficient full-size SUV.
2021 Chevrolet Tahoe Oil Capacity
The 2021 Chevy Tahoe has three types of engine, each with its corresponding oil capacity and oil type. The 3.0L 6-cyl Engine T LM2 Diesel Turbo takes 6.6 liters or 7 quarts with a filter. The 5.3L 8-cyl Engine D L84 takes 7.6 liters or 8 quarts with a filter. Lastly, the 6.2L 8-cyl Engine L L87 takes 7.6 liters or 8 quarts of oil.
All the engine types suggest the 0W-20 synthetic oil type. However, the type of oil depends on the diesel engines. Always refer to the owner's manual for specific oil grades recommended by vehicle model.
When Do You Need to Change Oil?
But when does your 2021 Chevy Tahoe need to change its oil? Is it necessary to change oil even though it is brand new? Chevrolet suggests conventional oil filters and oil changes be done each time you hit the 3,000 to the 5,000-mile mark. For full synthetic oil, your oil change should be every 7,500 – 10,000 mile mark. This will not only allow you to save on major repair costs but will also ensure your car performance remains optimal.
Oil changes also make your Chevy Tahoe last longer. When you leave oil at a certain state, it deteriorates, leaving your vehicle with sub-quality, less effective oil which may result in improper greasing of your diesel engines. (See owner's manual for specific oil grades recommended by your vehicle model.)
Types of Oil for Your Chevrolet Tahoe
Conventional Oil vs. Synthetic Oil
Conventional oil is the natural oil from refined crude oil. It is more readily available, and it can be easily stored. Because it is more common than synthetic oil, conventional oil costs less than synthetic oil. Cars that undergo conventional oil changes usually range from $25 to $30 without the labor.
The use of conventional oil, however, can be detrimental to your Chevy Tahoe, especially if you use it within high-temperature or low-temperature locations. Conventional oil is known for its unstable chemical components when subjected to extreme cold or warm areas because of its viscosity or fluid thickness.
Synthetic oil, on the other hand, is made up of a mix of natural and artificial chemicals – sometimes only artificial chemical compounds. Full synthetic oil is created in laboratories without the use of petroleum. Full synthetic oils in the market today include various additives to help prolong the oil's lifespan, making your engine run smoother in various weather temperatures compared to conventional oil. Because they contain other special ingredients, full synthetic oils are more expensive than conventional oils. A full synthetic oil change ranges from $60 to $90.
Synthetic-Blend oil is the type of synthetic oil that has a conventional oil component. Usually, synthetic-blend oil has a synthetic base which gives your engine added protection compared to conventional oil only. Synthetic-blend or semi-synthetic oil change starts at around $40.
70% of new cars nowadays run on synthetic and synthetic-blend oils. Its duration takes you farther in the long run, assuring proper oil circulation and avoiding engine failure even up to 15,000 to 25,000 miles.
5w-30 vs. 0w-20 Synthetic Oils
The 5w-30 is the type of synthetic oil used more commonly by the 2007-2014 Chevy Tahoe models, while the 0w-20 is widely used by the 2015-2021 models. The difference is that the 5w-30 is a multi-grade motor oil that runs best in extreme cold and heat temperatures. It creates less resistance on certain engine parts, ensuring that it is smoothly lubricated throughout.
0w-20 synthetic oil, on the contrary, is a low viscosity oil. It is said to deliver the best oil performance, especially in low-temperature weather conditions while retaining its thickness. Its multi-viscosity characteristic makes it improve the overall engine performance of vehicles, and contribute to environmental safety by reducing oil wastage.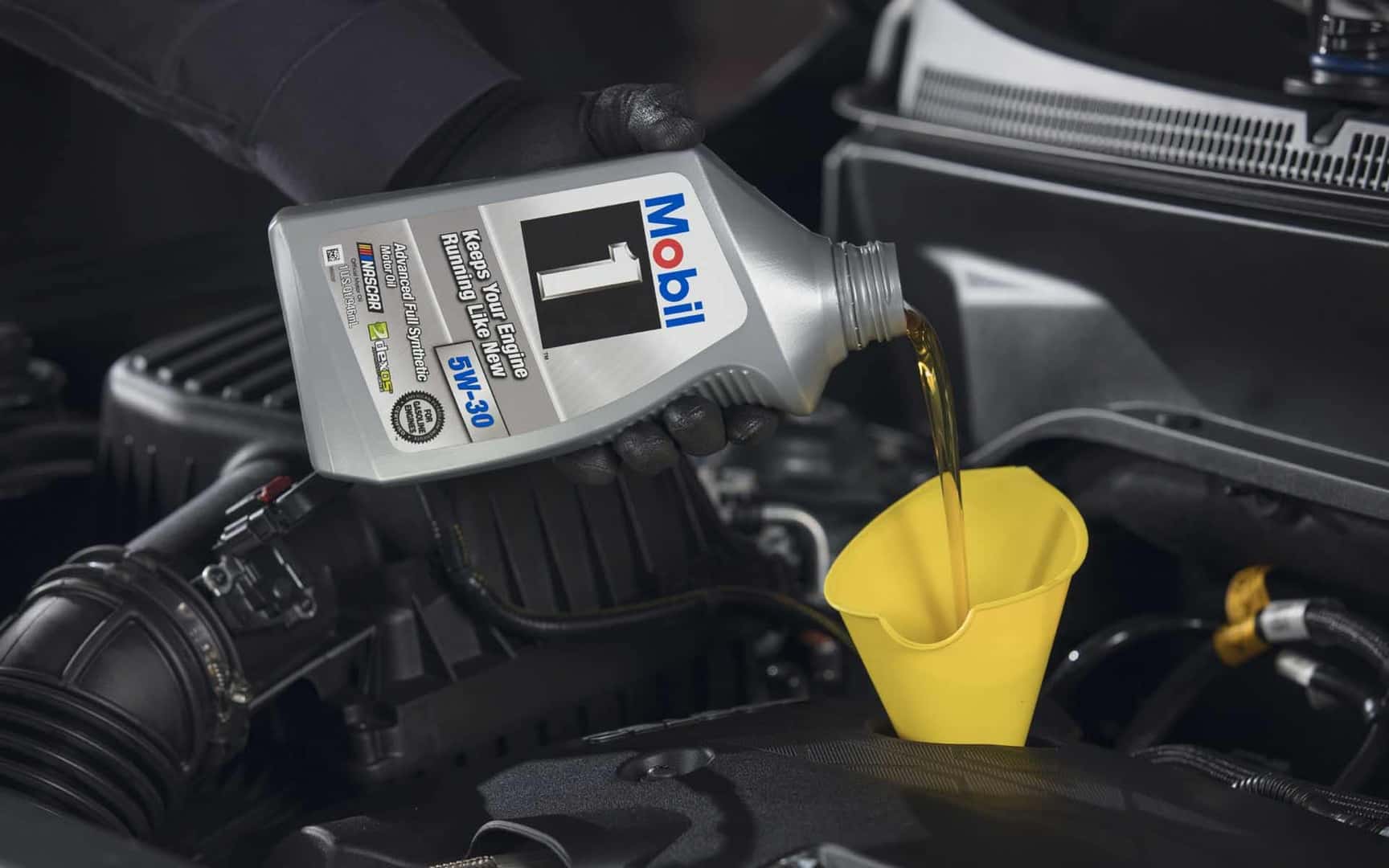 How to Change the Oil of 2021 Chevy Tahoe?
Remove and replace engine oil and filter
The first step in changing the oil of your Chevy Tahoe is to drain its current oil. Put a jack stand on the frame and replace the drain plug by twisting it the rest of the way off. Create a seating surface for the filter and install the new filter. Over-tightening can cause damage to the drain plug and filter, so take extra precautions. Put the oil plug back in and open the oil cap. Fill the engine with the indicated volume of oil.
Check the condition of all fluids
After draining and replacing the oil, it's important to check that all fluids are at the right level and that there are no leaks or breaks. You can do this by checking off the following list.
Pull the dipstick out by just a little and check the oil.
Pour the oil in until the level is sufficient on the dipstick.
Start the engine and let it sit to warm up, then check for leaks in the system. Leaks may come from a broken oil pan, overused oil filter, or a broken gasket in your Chevy Tahoe engine.
Turn the engine off and see if oil is leaking in the engine area. A slow leak may be related to a broken gasket.
After turning the engine on again, observe if the oil starts sprinkling. This means the oil is leaking from a damaged crankshaft or seal.
Or, better yet, have the certified car experts from Sanger Chevrolet Buick GMC take a look at your Chevy Tahoe. Our trusted team will ensure that your vehicle receives the very best care, providing a thorough and quality service. Let us do the dirty work for you!
Get the Best Oil Change Packages at Sanger Chevrolet Buick GMC
6-quart or 8- quart ACDelco GM OE Dexos1 Full Synthetic Oil Change Package
Our ACDelco GM OE Dexos1 Full Synthetic Oil Change package (6-quart ACDelco GM OE Dexos1) protects the car engine from extreme hot and cold weather conditions to avoid harsh deposits that may clog your engine system. It also prevents friction during the starting of your engine, preserving the viscosity of your engine oil. ACDelco GM OE Dexos1 also ensures no sludge and varnish deposits are formed on essential car parts, as well as minimizing rust formation and other contaminants.
This handy package includes an oil change and tire rotation to reposition tires from front to back or side to side, promoting tread wear and maintaining stability and grip in order to extend your tires' lifespan.
More than just Oil Changing
Multi-point Vehicle Inspection by Certified Service Experts
In the capable and knowledgeable hands of our vehicle experts, your car or truck can receive the following services to ensure its longevity and wellbeing:
Assess the oil life percentage of your Chevy Tahoe (for vehicles with the GM Oil Life Monitoring System) which can be helpful to gauge your next oil and oil filter change.
Tire check to ensure they are balanced, aligned properly, and in perfect condition.
Front and rear wiper inspection.
Windshield inspection for cracks or chips.
Fluid level inspection including the master cylinder and wiper fluid.
Brake system inspection and front and rear lining measurement.
Battery test including inspection of cables and lines.
Critical systems inspection including air filter, leaks, and other car parts.
Great Location – Visit Us Today
People from all over the area rely on the excellent quality of our services. We are trusted not only in Sanger but also in nearby areas of Clovis and Fresno. You can find us at 1028 Academy Avenue, Sanger, CA 93657, open for service from Monday to Friday from 7:30 am to 5:30 pm.
Looking forward to being of service to you!