Power Steering Belt Replacement

Chevrolet GMC Of Sanger is located at:
1028 Academy Ave • Sanger, CA 93657
A Nice Car is Nothing Without Power Steering
The luxury of power steering is understated. Because of that, power steering is one of those accessories in our cars that we take for granted. Normally, it's running perfectly fine, and we do not even notice it. However, have you ever driven an older vehicle without power steering? Or have you had a vehicle whose power steering failed and needed repair?
A nice car is nothing without reliable power steering. It's an absolute game-changer, and without it, modern cars would be nearly impossible to drive. That's why the engine component in charge of your power steering is so important. Keep on reading to learn what it is, and how to repair it if necessary.
The Power Steering Belt
Power steering is a system that reduces the effort a driver must exert in order to maneuver the car. Without power steering, manipulating your vehicle would be extremely hard, especially at slower speeds. Pulling into a parking lot, or making a 90-degree turn would feel like a complete upper-body workout.
In most cars, this system is made possible through hydraulic assist. Essentially, hydraulic fluid is pressurized by a pump, which is then utilized to assist in the steering process.
But how does the pump operate? Well, that's where the power steering belt comes into play.
The power steering belt is the mechanism that is responsible for providing power to the pump that pressurizes the hydraulic fluid used to assist your steering. The steering belt is most often located at the front of the engine and turned by a pulley on the crankshaft.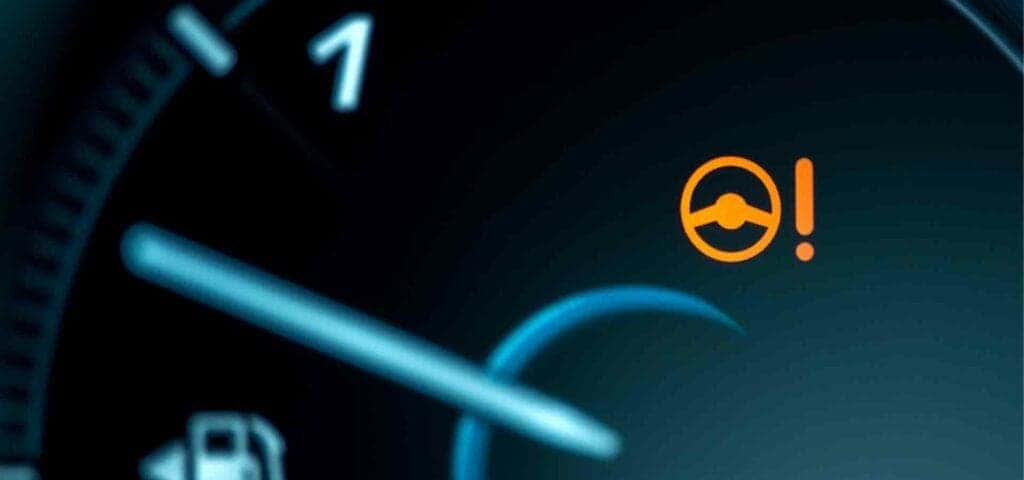 Wear and Tear on the Steering Belt
Like the other belts in your engine, the power steering belt will experience wear and tear over time. If the steering belt in your vehicle requires repair, there will probably be a few signs that it is not operating correctly.
Screeching noise when the car starts, especially in the cold
Uneven or accelerated wear on the belt from being too slack Jerky or slow power steering Complete failure of your power steering
Inspecting Your Steering Belt From Home
In some cases, it may be possible to inspect your power steering belt from home. On most cars, you can inspect the steering belt by looking down inside the engine compartment. Other times, you may need to inspect from below.
You can examine your steering belt's tension, and look for signs of damage. Physical signs of wear and tear on the steering belt itself could be:
Nicks
Tears
Cuts
Fraying at the edges
Score marks
If you notice any of these signs of wear, or that the steering belt is slack, then it's probably a good time to schedule maintenance.
Recommended Maintenance
In some cases, power steering issues can be fixed by adjusting the tension of the steering belt itself. However, other times, the power steering belt needs to be completely replaced/ Power steering belt replacement.
We recommend that you get your steering belt, and the entire steering system inspected every 6,000 miles or so. This is normally the service interval recommended in the vehicle's handbook, and when you are getting other services done anyway, like an oil change or head gasket repair.
Contact Us
If you enjoyed this article and learned something new let us know! We would love to hear from you. Please don't hesitate to shoot us an email.
Let us know how we can assist you and your vehicle. Whether it be with car buying and selling, or some other automotive-related curiosity. Sanger Chevrolet Buick GMC is here to help!