How much is my car worth? KBB Vs Nada
Over the past year, more and more Americans have changed their work lives. Telecommuting has become more popular, and many multi-vehicle households are considering downsizing their vehicle fleets. At the same time, due to production shutdowns in Asia, a global microchip shortage has resulted in a record-high demand for used cars. For car owners looking to sell a used vehicle, it seems like there is a myriad of options. The internet, auctions, local dealerships specializing in used cars, local dealerships that sell new vehicles and will take used vehicles in trades, all are outlets for selling your car. But before you sell your vehicle, it's important to know how much your vehicle is worth. For that, sellers will consult resources such as the Kelley Blue Book (KBB), NADA, and other trusted resources that measure car values. Even car dealerships such as Prieto Automotive in Fresno or Sanger Chevrolet in Sanger, have trade-in value tools. For the layperson, even with all these resources, there are still some unanswered questions. How do I sell my car? Where do these values come from? What do these numbers mean? Most important of all is how much is my vehicle worth?
What is the Kelly Blue Book?
The Kelly Blue Book or KBB for short has its origins in the Kelly Car Company, started in 1918 by Les Kelly. Kelly operated a car dealership, and using sales data from his dealership, he compiled the first book of used car values in 1926. Fellow dealers and consumers alike appreciated the resource that Kelly had created. By the 1960s, the Kelly family had left the dealership industry, focusing on their book instead. Although the physical printing of the book was discontinued in 2017, on their website (kbb.com) the KBB collects its data in the same way as nearly 100 years ago, using sources such as dealer sales and car auction prices. The data is then adjusted for factors such as the time of year, and market trends in a particular geographic region, and using this, the pricing can be updated weekly.
What is NADA?
The National Automobile Dealers' Association or NADA for short was founded in 1917. As a national body representing new car dealers across the United States, NADA began compiling sales information on used cars in 1922. In 1932, NADA published its first guide for valuing used cars, the NADA Used Car Guide. In 2015, the Used Car Guide was taken over by JD Power and Associates, an analytics firm known for its prestigious JD Power Awards. Today, much like KBB, they have frequent updates to their information to help consumers understand the value of their car.
How do I read the KBB or NADA information?
The easiest way to learn the approximate value of a car that you're looking to buy or sell is quite easy. There are price calculators on kbb.com and nada.com that will ask you a few questions about the vehicle, your location, and use that to determine a value. People often use both NADA and the KBB. However, typing "what is my car worth" or "where to sell my car" followed by the model and the year into a Google search may not get you one simple price.
Instead, you'll see several different terms and numbers when figuring out the value of a vehicle which can be confusing. Here are some of those terms you're going to see on NADA, KBB, or similar websites.
MSRP: This acronym stands for Manufacturers Suggested Retail Price. It's also known as a car's Sticker Price. It's simply the price auto manufacturers suggest the car dealer sell their vehicles for. Dealers are free to price the vehicle and sell it for any amount they want. For trendy or high-demand vehicles, the dealer may try to sell the vehicle for an amount higher than the MSRP. Typically, new vehicles are sold for less than MSRP. The MSRP typically includes some "wiggle room" to allow customers to haggle down the price, and still allow a dealer to make a profit. Used cars do not have an MSRP.
Invoice Price: This is what the dealer actually pays the manufacturer for a car. The invoice price is usually below the MSRP to allow dealerships to make a profit.
Transaction Price: This is the total selling price of any new or used car, including the destination fee and other charges, but not including tax.
Wholesale Price: This is what the dealership paid the previous owner of the vehicle for the pre-owned vehicle (plus any transport, cleaning, repairs, or auction fees).
Book Value: This refers to the value assigned by the KBB, or NADA.
Trade-in Value: Also known as trade-in price, this is how much the dealer offers to buy your vehicle.
What is my book value?
Both the KBB and NADA websites have tools to find your car value. When you visit these websites, they will ask you some questions about the make and model of your vehicle, the year, current mileage, and location. Because vehicles have different values in different areas of the country, the zip code is very important! As you can imagine, there is far more demand for convertibles in Clovis, CA, compared to Anchorage, AK.
The last step before getting a price is indicating your vehicle's condition. Typically this step is the hardest, as many people have difficulty accurately assessing what makes their car "poor, fair," or "good."
After inputting all this information, the KBB website will show you a couple of values. You will receive a Trade-In Value and a Private Party Value, as well as an estimation of how long it will take to sell your car: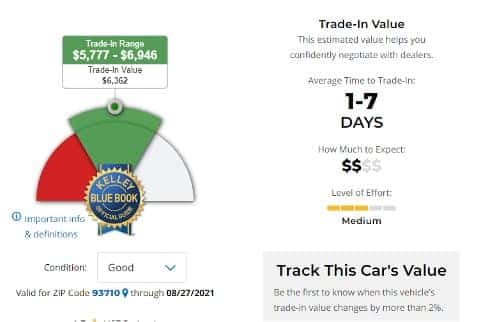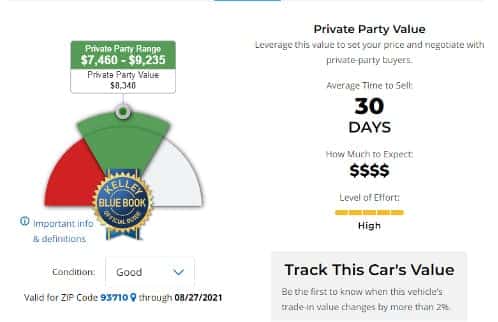 As you can see, for this example car, it could take up to a week to sell it to a dealer and up to a month to sell to a private individual. Going to a dealership with an "instant cash offer" such as Sanger Chevrolet allows you to sell your vehicle much more quickly than the KBB estimate, often even on the same business day.
The information the NADA website provides is slightly different: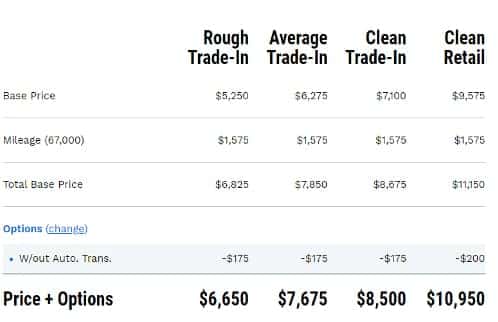 As you can see, the values are different between KBB and NADA.
Why are the NADA and KBB values different?
Although NADA and KBB use similar data to calculate the value of your used car, the price can differ from each source. This is because they both use different algorithms to sort the data.
How do I use the Book Value?
KBB provides two different values for your car. The KBB Trade-In Value is an estimate of what you can expect to get when you sell your car to a dealer. It's important to remember NADA or KBB values are an estimate only. The trade-in value is going to be lower at a dealer than at a private sale. This is because dealers will re-resell the car to someone else, but first the dealer must make the vehicle ready for sale, including smog testing, and fixing any defects that might be found during testing.
The Private Party Value is what is considered a fair price for your vehicle when you sell your car to an individual. For many car buyers and sellers, it's often far more convenient to sell your car to a dealer. Finding a buyer for your vehicle can take a lot of time. Not to mention, when you sell your car to a dealer, it can be a quick way to get money to put towards the purchase of your next vehicle. Many dealers like Sanger Chevrolet Buick GMC in Sanger, CA, have their own tools similar to NADA and KBB which allow you to value your car or truck, receive an instant cash offer in minutes, and get a check the same day. They will quite happily buy your used car, even if you don't plan on buying a new one now.
What else affects my car's value?
The primary criteria for valuing a vehicle are its mileage and condition. However, things, like its color, options, and location, are also considered.
Mileage and condition: The lower the mileage on a vehicle the more valuable it is. But the condition is also important. A low-mileage car with lots of scrapes and dents will sell for less than a higher-mileage car in pristine condition. Vehicles with a good service history are likely to command a higher price than vehicles that have been neglected and come with many broken parts.
Modifications: Custom modifications such as aftermarket wheels, custom paint, engine modifications, and other cosmetic changes can lower the value of a car. Not everyone has the same taste.
Paint Color: Basic colors like white and black appeal to more car owners than trendy colors that may be off-putting to some buyers.
Vehicle Location: Some vehicles will are more popular in certain towns, cities, states, or regions. For example, there is much more demand for full-size pickup trucks in rural areas, compared to in a crowded city.
Time of Year: Convertibles are popular in the summer but harder to sell in the winter, especially in snowy areas.
And there you have it, everything you need to know about how your car is valued. If you're in Metropolitan Fresno, Sanger Chevrolet makes it easy to sell your car, with no pressure to buy a new one, an instant cash offer, and same-day check payment. They take the effort out of selling your car.