Suburban Vs Expedition
Is the Suburban competent to take on the Expedition? These are two vintage SUVs that have been around for a long time as large family major carriers. However, king or queen can only be one choice. Is it going to be the Chevrolet Suburban or the Ford Expedition?
Take a look at how the two SUVs compare in terms of features and cost:
EXTERIOR
The Chevy Suburban has a nice look and some outstanding features on the outside. Exterior features such as 22-inch wheels, all-season tires, red tow hooks, a skid plate, a roof rack baggage carrier, and more are available.
The Ford Expedition's exterior has a powerful, aggressive appearance to it and some excellent functionality. There's a panoramic vision roof, platinum wheels, and various exterior colors to choose from, including Red Metallic, White Metallic, Iconic Silver, Kodiak Brown, and more.
INTERIOR
Depending on the version, the Chevrolet Suburban may accommodate seven, eight, or nine passengers. Cloth leather is standard on this car. Upgrades such as leather interior, heated seats, ventilated seats, and more are provided.
On the inside of the Ford Expedition, the basic level trim has standard seating for five passengers. On the other hand, higher trim levels have a third row of seating for a total seating capacity of up to eight persons. This car comes standard with fabric seats, but leather upholstery, heated seats, ventilated seats, and more options are available.
THE CARGO SPACE AND OTHER TECHNOLOGY
The cargo room on the Chevrolet Suburban 2021 is fantastic. Behind the third row of seats, this vehicle has 41.5 cubic feet of cargo capacity. You may acquire 93.8 cubic feet of cargo capacity by folding down the third row. By folding down the second and third rows of seats, you may acquire up to 144.7 cubic feet of cargo capacity.
When it concerns the Ford Expedition cargo space, the quantity you get is determined by the model. A smaller variant is available, with cargo space ranging from 19.3 cubic feet behind the third row to 104.6 cubic feet with the seats folded down.
Apple CarPlay, Android Auto, a Chevrolet Suburban infotainment system, a 10.2-inch touchscreen, a Wi-Fi hotspot, remote start, two 120-volt power outlets, and Bluetooth are all standard technological features in the 2021 Chevy Suburban. Wireless device charging, a Bose audio system, a rear-seat entertainment system, and a navigation system are among the available technology options.
There are standard electronic amenities in Ford Expedition, including Apple CarPlay, Android Auto, a Wi-Fi hotspot, the SYNC 3 infotainment system, and an 8-inch touchscreen. However, options like wireless device charging, a navigation system, remote start, and a rear-seat entertainment system will require an update.
The inside of the Chevrolet Suburban is wider than the Ford Expedition, with a broader touchscreen, more technological options, and greater total cargo room.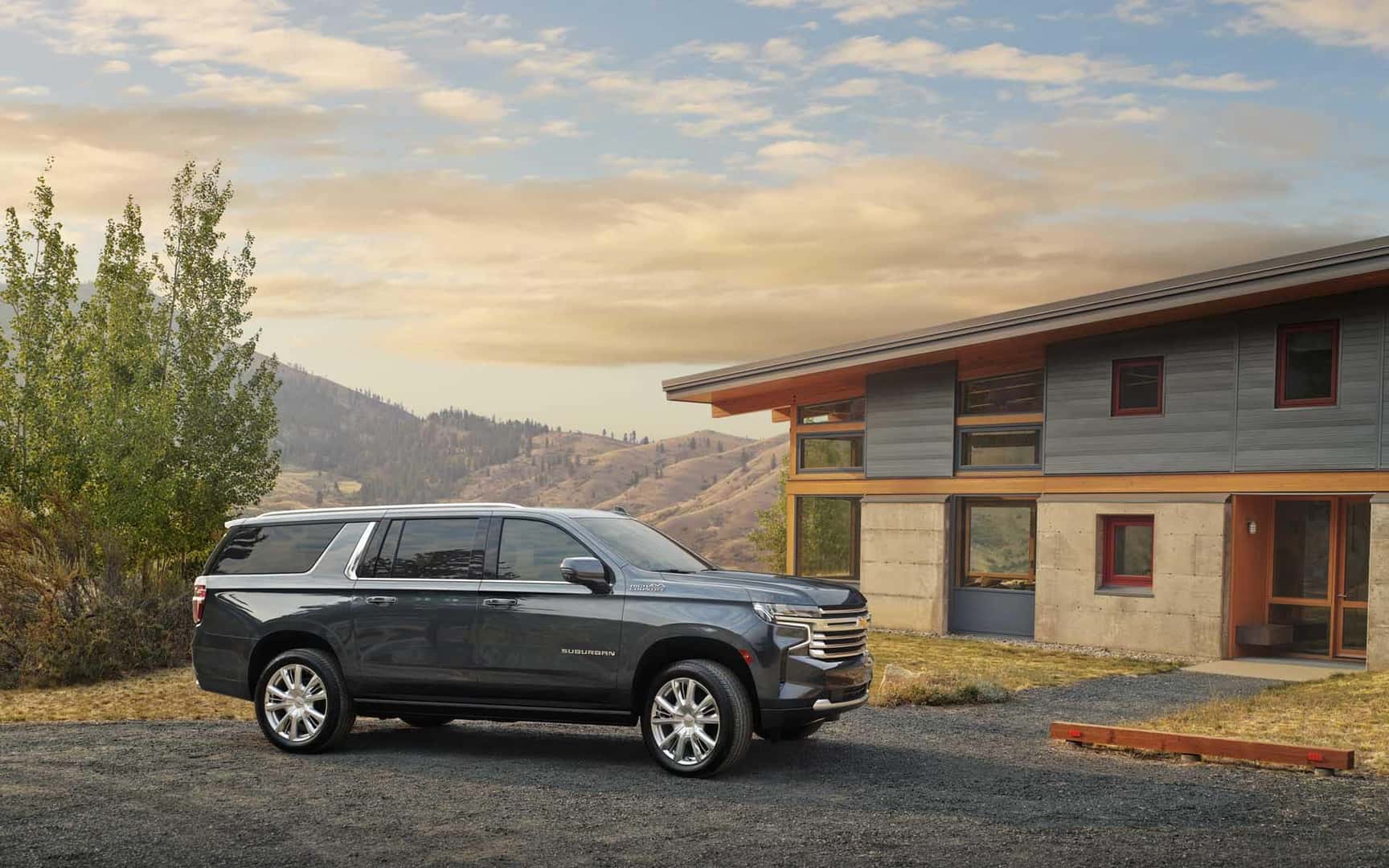 TIRES AND WHEELS
The Suburban comes fitted with a simple tire filling mechanism. When filling the tires, the vehicle's inbuilt tire pressure sensors monitor the pressure as the tires fill and alert the driver when the tires are properly inflated. The Expedition does not have tire inflation that is monitored by the car.
OVERALL SIZE OF BOTH THE SUVs
We want to point out that the Chevrolet Suburban is larger than the Ford Expedition, which is significant when comparing the two vehicles. The Suburban is 224.4″ long and has a 130″ wheelbase, but the Expedition is just 210″ long and has a 122.5″ wheelbase. The Suburban also outperforms the Expedition with a 31-gallon gasoline tank over the Expedition's 28-gallon tank. Of course, this extra room translates to more interior space for drivers, passengers, and freight.
EFFICIENCY AND ENGINE OPTIONS
The 2021 Chevy Suburban comes with various engine options to help you get the performance you desire. A 5.3-liter V8 engine is the vehicle's regular base engine. This V8 engine generates 355 horsepower and 383 pound-feet of torque. There are two more engines available for this SUV. The first engine is a 3.0-liter turbo diesel with 277 hp and 460 lb-ft of torque. A 6.2-liter V8 engine with 420 horsepower and 460 pound-feet of torque is the final choice. This SUV has a towing capability of roughly 8,000 pounds when fully equipped.
There is only one engine choice for the Ford Expedition in 2021. A 3.5-liter twin-turbocharged V6 engine powers this SUV. This V6 engine produces 375 horsepower and torque of 470 pound-feet. A 10-speed automatic transmission is coupled with this engine. When properly loaded, this vehicle can haul roughly 9,000 pounds.
When it is about performance, the Chevrolet Suburban provides you with more alternatives for engine selections. The Ford Expedition's towing capability is somewhat greater.
HANDLING
The wheelbase of the Suburban is 2.5 inches longer than the Expedition for a smoother ride and more stable handling (134.1 inches vs. 131.6 inches).
The track (width between the wheels) on the Suburban is.9 inches wider in the front and 1.1 inches wider in the back than on the Expedition for greater handling and safety.
The Suburban's turning circle is 43.3 feet smaller than the Expedition for greater maneuverability ( feet vs. 43.3 feet).
SAFETY
Both of these SUVs offer a slew of safety features to keep an eye on you and your passengers while you're on the road. A rearview camera, automated emergency braking, frontal collision warning, pedestrian recognition, a rear-seat reminder, rear parking sensors, and the Teen Driver system are standards on the 2021 Chevrolet Suburban. Blind-spot monitoring, rear cross-traffic warning, lane keep assist, and adaptive cruise control are all available safety features.
With the Ford Expedition 2021, you receive a lot of standard safety features. The Co-Pilot360 suite of capabilities is included with this car. A rear view camera, forward collision warning, blind-spot monitoring, lane keep assist, rear cross-traffic alert, and the automated emergency braking are available features. To access features like parking sensors, adaptive cruise control, and a surround-view parking camera system, you'll need to upgrade. Both of these vehicles have several advanced safety measures. The Teen Driver safety system is available on the 2021 Chevrolet Suburban, which can assist you in keeping an eye on your new driver's safety.
Thus you can see, both of these SUVs have a vast scope of equipment and functionality. You are the only one who can decide which option is best for you, but Sanger Chevrolet Buick GMC is here to help you make that decision even easier.
DURABILITY
Long-term dependability data survey of three-year-old car owners suggest that Chevrolet automobiles are more dependable than Ford vehicles. Suburban has a dependability rating of fourth, which is greater than the industry standard. The Expedition is ranked 16th, with 31 more faults per 100 vehicles.
HORSEPOWER
Although the Expedition has a more powerful engine as standard, the Suburban has the most horsepower. Top-trim, The 6.2-liter V8 engine in the High Country grade produces 420 horsepower and 313 pound-feet of torque. A 3.0-liter six-cylinder diesel engine with 277 horsepower and 460 pound-feet of torque is available as an option for High Country buyers.
Keep in mind that to get this extra power, you'll need to upgrade to the Suburban's most costly model. The Suburban's standard engine is a 5.3-liter V8 that generates 355 horsepower and 383 pound-feet of torque.
The same 3.5-liter turbocharged V6 engine is standard on Expedition in 2021. With 375 horsepower and 470 pound-feet of torque, you can confidently enter interstate traffic. This engine is enhanced in the Platinum variant, producing 400 horsepower and 480 pound-feet of torque.
TOWING
Although the Suburban has a few more horsepower, the Expedition will haul the largest trailer. Rear-wheel-drive variants can tow up to 9,300 pounds with the right accessories. Expedition with four-wheel drive can tow up to 9,200 pounds. The Max versions with the expanded wheelbase have a maximum towing capacity of 9,000 pounds.
PRICING
The Chevrolet Suburban and Ford Expedition, starting at roughly $53,000 MSRP, are two automobiles worth considering. The Expedition is slightly less expensive than the Suburban, starting at $51,800.
Evaluation of both the SUVs
The spacious three-row cabins and sporting characteristics of the Ford Expedition and Chevrolet Suburban for 2021 are well-known. With so much in common, choosing between these typical full-size SUVs might be difficult. Our SUV comparison guide will assist you in taking a deeper look at each model.
| | | |
| --- | --- | --- |
| Model | 2021 Chevrolet Suburban | 2021 Ford Expedition |
| Invoice | $49,476 to $71,328 | $49,625 to $77,425 |
| MPG – City | 13 – 15 MPG | 17 MPG |
| Cargo Space | 144.7 ft3 | 104.6 ft3 |
| Horsepower | 355 – 420 hp | 375 – 400 hp |
Who should consider buying a Ford Expedition?
The Ford Expedition is ideal for consumers who value passenger space and comfort above cargo capacity. It's also ideal for those searching for a towing vehicle that isn't a mile long.
Who should consider buying a Chevy Suburban?
The Chevy Suburban's more basic appearance will appeal to those who favor the traditional, blocky look of SUVs from the past. The greater cargo capacity of the Suburban will also appeal to shoppers who want to fit every cubic foot of stuff into their SUV.
Visit Sanger Chevrolet Buick GMC today to take a test drive in the tow-friendly Ford Expedition. If you cannot visit us, you may view our online inventory to see our latest Expedition for sale in our store. We are the best SUV dealers in Fresno, Califoirnia.
WHY DOES THE CHEVROLET SUBURBAN OUT PERFORM THE FORD EXPEDITION?
As a result, the Chevrolet Suburban 2021 reigns supreme among big SUVs, a distinction that the Ford Expedition cannot challenge. From powertrain options (for either performance or sustainability) to all-around convenience and a fully usable third-row seat or cargo room, there's something for everyone.